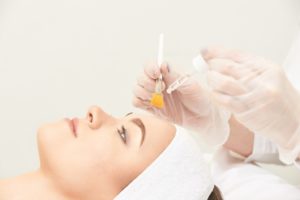 Chemical peels are one of the most popular professional skin treatments. A peel uses a mild acid to get rid of old skin cells, reduce acne, fight the signs of aging, brighten your skin tone, and so much more. Are you thinking about getting a chemical peel in Chicago? There are several different types available. In this blog post, we'll discuss what exactly a chemical peel is, as well as three different peel options and their unique benefits.
What Is a Chemical Peel?
During a chemical peel, a professional applies a chemical solution to the skin. The solution stays on the skin for a certain length of time before it gets peeled off. When it gets peeled off, it takes dead skin cells with it, revealing the fresher and more youthful skin underneath. It may also incite a mild inflammatory response, which promotes collagen production and can reduce the appearance of fine lines and wrinkles. A professional peel produces more powerful results than what you could experience from even high-end at-home products.
Popular Types of Chemical Peels
Glycolic Peel
A glycolic acid peel uses fruit acids (or man-made acids) that penetrate the skin. Depending on the concentration of acid used, the peel may affect only the top level of skin, or it may make its way into the skin's deeper layers. The exfoliation provided by a glycolic peel is excellent for addressing acne, hyperpigmentation, and sun damage. Many people who are looking to get rid of age-related dullness are fans of glycolic peels.
Salicylic Peel
If you have breakout-prone skin, you are probably already familiar with salicylic acid, which is commonly used to treat and prevent acne. A salicylic peel gives your skin a mega-boost of this remarkable acid. The acid is oil-soluble, which means it can work its way deep into oily skin. It can thereby clear up congestion in the pores and get rid of oils that cause whiteheads and blackheads. Such a peel can also improve the efficiency of your at-home acne-fighting skincare regimen by allowing your products to penetrate deeper into your skin.
TCA Peel
A trichloroacetic acid (TCA) peel penetrates deeper into the skin than most glycolic or salicylic peels and can offer powerful results. TCA peels are a good choice for individuals who struggle with scarring or pigmentation problems. However, because a TCA treatment is so potent, keep in mind that your skin may continue to peel for several days after you complete it.
Which Is Best for You?
If you aren't sure which type of chemical peel would be best for you, the team at your local med spa can help you decide. Based on your skin type, skin condition, and goals, they'll recommend a treatment that is a fit for your circumstances. Hopefully, you'll soon experience the "glow" that can come only from professional skincare services!
Meet the Doctor
Dr. Irvin M. Wiesman is a board-certified plastic surgeon and a proud member of the American Society of Plastic Surgeons. He and the team at Natural Beauty Med Spa offer numerous types of chemical peels, and they would be happy to help you pick one that fits your circumstances. Contact us at 312-981-1291 to learn more about how we can serve you.