HydraFacial Scalp – Chicago, IL
REVEAL A YOUTHFUL SCALP!
HYDRAFACIAL FOR SCALP
Stimulates scalp circulation
Infuses scalp and hair follicles with growth factors and skin proteins
Promotes the appearance of healthier, thickers, fuller-looking hair
A healthy scalp is the foundation for healthier-looking hair. Poor scalp health- dry skin, clogged follicles, dead skin cells, lack of circulation, can lead directly to thinner looking hair. Luckily, there is a solution. Healthier-looking hair starts with a healthy scalp. Hydrafacial Vortex Technology and Keravive Peptide Complex Solution cleanses, exfoliates, and delivers a proprietary blend of biomimetic growth factors and askin proteins to hydrate and nourish the scalp.
Because Keravive is delivered via the Hydrafacial platform, it is easy for skin health professionals to integrate Keravive into their treatment offerings. It's a gently and relaxing 3 step-process:
Step 1
CLEANSE + EXFOLIATE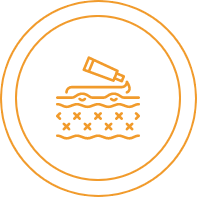 Relaxing, painless suction and hydration removes dirt, oil, and dead skin. Deeply cleanses hair follicles of product build up.
Optimized delivery of a proprietary blend of 5 biometric growth factors and 2 skin proteins.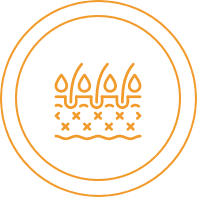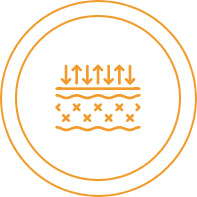 Take-home treatment spray helps deliver ongoing benefits between treatments.
KERAVIVE PEPTIDE COMPLEX BOOSTER
BENEFITS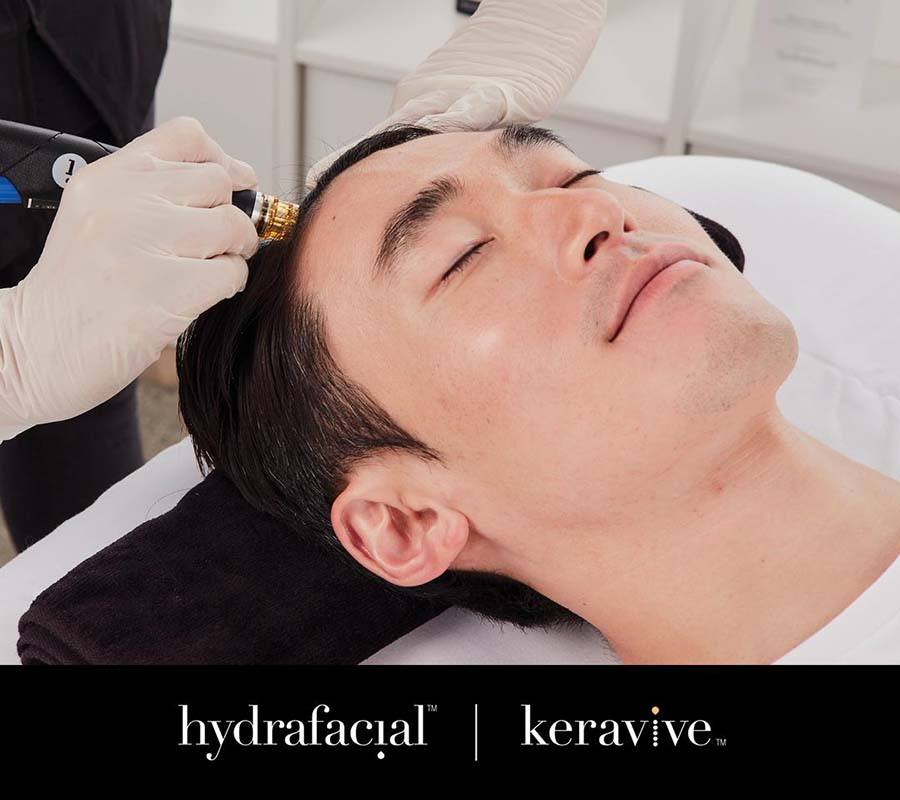 Cleanses, exfoliates, and hydrates the scalp and hair follicles
Removes dirt, oil, flakes, dead skin cells and impurities from the surface of the scalp and from hair follicles
Stimulates scalp circulation
Infuses the scalp and hair follicles with growth factors and skin proteins to promote the appearance of healthier, thicker, fuller-looking hair
HYDRAFACIAL KERAVIVE PEPTIDE COMPLEX SPRAY
BENEFITS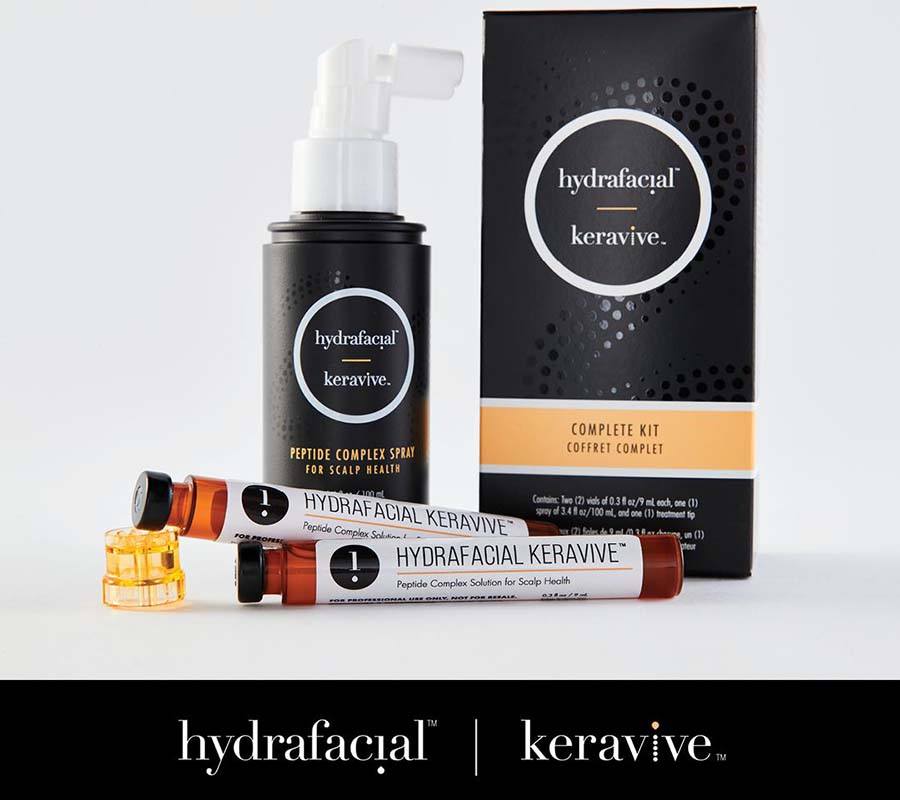 Enhances benefits of in-office treatment
Delivers daily nourishment to scalp and hair follicles
Stimulates scalp circulation
Compliments oral, topical, laser and surgical hair loss treatments
HYDRAFACIAL KERAVIVE IS FOR EVERYONE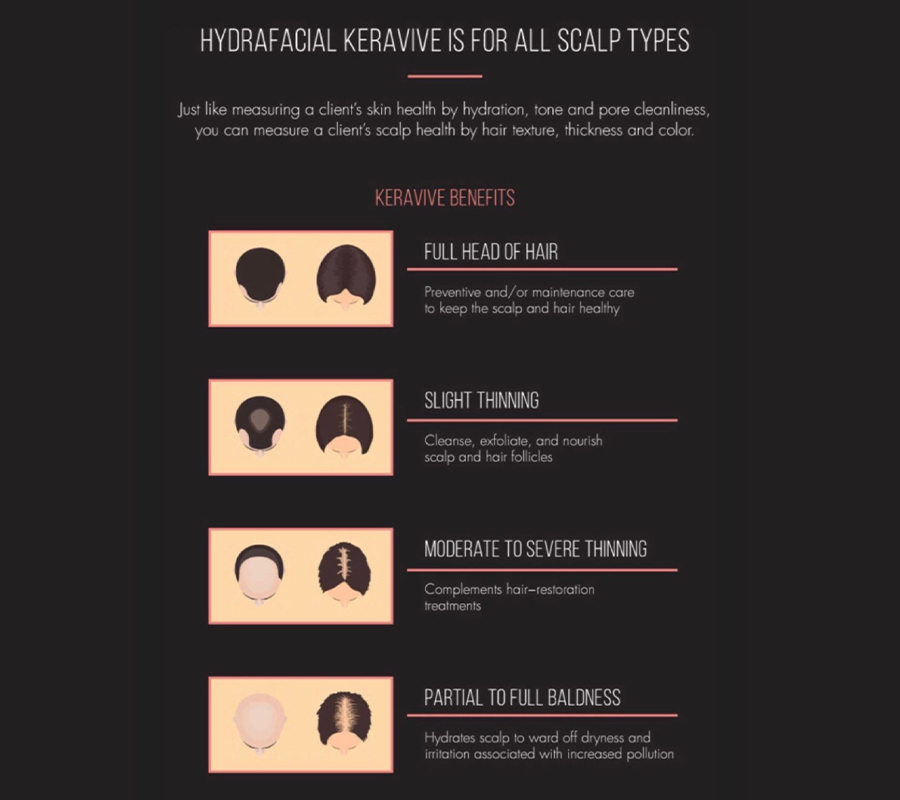 Whether you are experiencing slightly thinning hair or if you have severe hair loss, Keravive Hydrafacial is an option. This treatment is perfect for a cleanse or as a compliment to restoration treatments.
HydraFacial for Scalp FAQs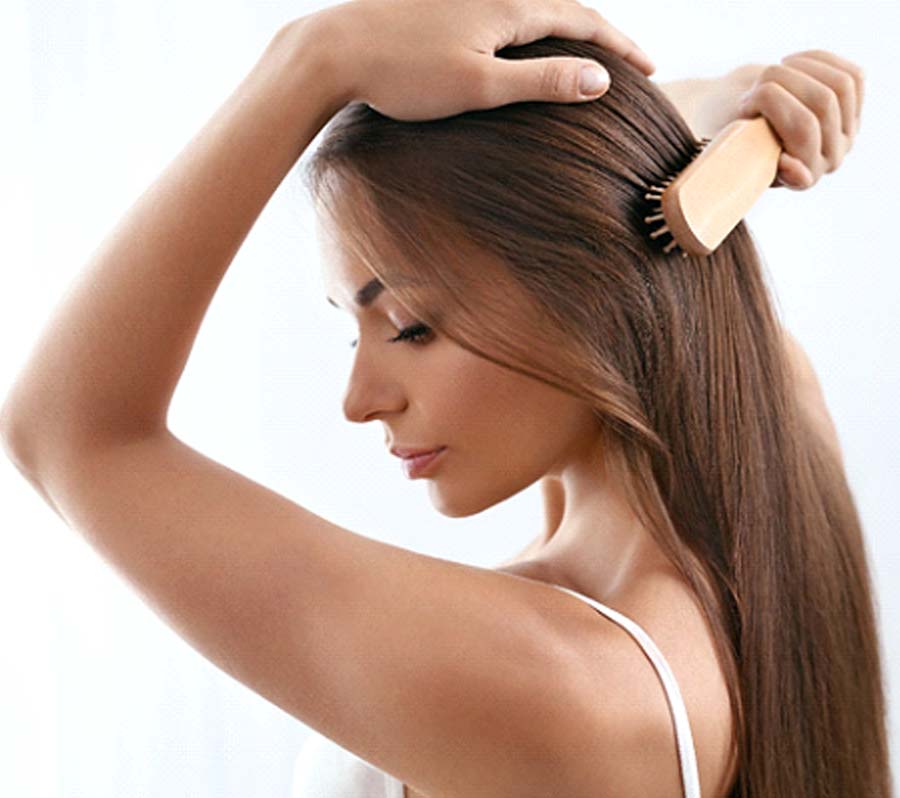 Dr. Wiesman and our team are proud to offer HydraFacial Keravive treatment to anyone who is looking to refresh their scalp and promote their hair health. Before you schedule your appointment, though, it is understandable if you have questions about the road ahead. Please take a look at the following list of FAQs. If you don't see answers to your specific concerns, give us a call — our team will be happy to speak with you.
How Much Does HydraFacial Scalp Treatment Cost?
The cost can vary from provider to provider. On average, an in-office session and take-home spray cost significantly less than $1,000 (much less than a hair transplant surgery). If you would like to learn about our office's pricing policy, give us a call.
When Will I See Results?
Immediately after your treatment, you should notice that your scalp feels refreshed and clean. If you use the Keravive spray as directed, you can expect to enjoy a healthier scalp for months following your in-office session. If you undergo the treatment because you are concerned about hair thinning, it may take a while (several weeks or a couple of months) before you notice improved hair growth. For best results, we recommend that you undergo an in-office treatment once a month for three consecutive months, followed by maintenance visits every 1 – 3 months.
When Can I Wash My Hair after a HydraFacial Keravive Treatment?
We recommend that you wait 6 – 12 hours before you wash your hair. However, you can use styling products before that — it will be safe to use them as soon as your scalp dries following your treatment. On average, that takes only 15 – 20 minutes. When you do wash your hair, you can use whatever shampoo and conditioner you like best. No products are off-limits. However, it may be best if you use hair cleansing products with exfoliating ingredients like AHA or BHA.
How Long Does the Treatment Take?
The in-office treatment typically takes less than an hour. There is no required downtime afterward, so you will be able to resume your normal routine right away.
Will HydraFacial Keravive Help with Dandruff?
Dandruff is a condition characterized by flaking of the skin on the scalp. The exfoliation part of the HydraFacial Keravive process removes flakes, while the nourishing part of treatment encourages improved scalp health. Many people who suffer from dandruff notice a significant reduction in flaking following their treatment.
Are There any Risks or Side Effects Associated with the Treatment?
HydraFacial Scalp in Chicago is an extremely low-risk procedure. It is non-invasive, which means there is no downtime and almost no risk of infection. The ingredients are well-tolerated by the vast majority of people. You should note, though, that you might experience some hair shedding after your treatment. This doesn't mean that HydraFacial is causing hair loss. The hairs are typically non-growing ones that would have fallen out anyway. The HydraFacial treatment simply uproots them a little earlier than they would have otherwise come out.