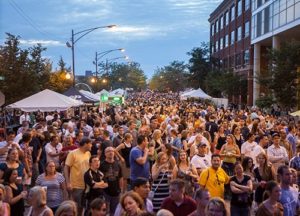 As a leader for elective treatments and skin rejuvenation in Chicago, Natural Beauty Med Spa strives to help our patients achieve optimal health and happiness. Not only do we aim for excellence in our office, but in our community as well. We believe that it is important to support the area, which is why we proudly sponsor the Taste of the River North event every year. The gathering showcases some of the community's best neighborhoods. We look forward to taking part for another year because we are proud to call the area our home.

Explore the Taste of the River North Event
For the past 17 years, families in the area have looked forward to the Taste of the River North event as it features the community's favorite places and people. From restaurants and chefs to bands and artisans, you will get to meet your neighbors while also learning more about many local hidden gems. Throughout the weekend, you will have the opportunity to mingle with others who share your love for the community while dining on great food and listening to a diverse music selection.
This year, the event is presented by the River North Residents Association while being produced by Raven Special Events and Duff Entertainment. To support their efforts to bring a new sense of community to the area, you will find many amazing sponsors, including Natural Beauty Med Spa.
Support Your Community with Us
Natural Beauty Med Spa believes in providing our patients with the highest quality of care. Our team of licensed medical aestheticians deliver a first-class experience when needing skin rejuvenation, laser hair removal, microdermabrasion, and many other noninvasive procedures.
When we are not in our office, we are in the community, which we proudly call home. To support our home, we look forward to joining you at the Taste of the River North event.
Join Us at Taste of the River North
If you are ready to get to know your neighbors and show your support for the community, we invite you to join us July 20th-22nd, 2018 at Ward Park on the corner of N. Kingsbury and W. Erie. Browse a wide selection of food vendors and exhibitors while listening to the best local bands, including Sixteen Candles, Masked Intruder, and AM Taxi.
We look forward to seeing you there!
About Dr. Irvin M. Wiesman
Dr. Irvin M. Wiesman is a board-certified plastic surgeon who offers an array of procedures at Natural Beauty Med Spa. In addition to completing medical school, he also completed 5 years of General Surgery at St. Joseph's Hospital. He also continued his training with a Hand and Microvascular Surgery fellowship and plastic surgery training. As a well-respected and renowned surgeon, he also has a passion for skin rejuvenation, which led him to open his private practice. While he works to help his patients look and feel their best, he maintains a strong sense of community. If you are interested in skin rejuvenation, choose a trusted member of the community. Contact Natural Beauty Med Spa today to schedule your consultation.