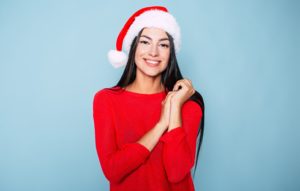 The holiday season is an exciting time of the year as you gather with friends and loved ones to exchange gifts and share warm meals. Although it's the season for giving, don't you deserve something special too? Treat yourself for the holidays with a special service from our medical spa. From luxurious facials to relaxing massages, we'll help you look and feel your best this holiday season.
Hydrafacials
Hydrafacials can turn back the hands of time to reveal beautiful skin. The revolutionary treatment enhances the tone and texture of your skin using an effective, noninvasive option. Innovative technology uses a special cleansing and peeling method to uncover a new layer of skin. Gentle exfoliation and resurfacing are used to remove debris and open your pores. Once your pores are opened and suctioned clean, your skin in rehydrated and nourished to restore a youthful glow.
Hydrafacial can be used to reduce the appearance of several concerns, including:
Sun damage
Uneven tone or texture
Enlarged pores
Oily skin
Brown spots
Age spots
Laser Hair Removal
Remove unwanted body hair without wax strips or razors. Now, you can choose pain-free laser hair removal to significantly diminish body hair. A special light passes through the skin to absorb the melanin in the hair shaft. This increases the temperature of the hair follicle and destroys it. Our office uses the Soprano ICE system because it's safe, effective, and virtually pain-free. It's FDA cleared for all skin types, including those who have tanned skin.
The system is gentle to be used on several areas of the body, including:
Face
Underarms
Forearms
Legs
Chest
Back
Bikini area
Massage
Our Roscoe location can help you unwind after a long week to reduce your stress for the holidays. Manipulating the soft tissues will relieve your body of stress or pain. You'll enjoy a customized massage using a variety of techniques and movements to help you reach a deep level of relaxation. You will notice an improvement in your mental and physical stress levels to head into the new year feeling your best.
Invest in Yourself for the Holidays
It's easy for your focus to turn to the needs of others throughout the year. This holiday season take the time to invest in yourself. Give yourself the gift of confidence or relaxation with a spa treatment. We look forward to helping you look and feel your best.
About Dr. Irvin M. Wiesman
Dr. Irvin M. Wiesman is a board-certified plastic surgeon who specializes in hand and microvascular treatments; however, he has also completed advanced training in other elective treatments as well, such as skin rejuvenation and laser hair removal. He offers a variety of treatments from his full-service spa to help his patients achieve their aesthetic goals while promoting their overall quality of life. If you're ready to treat yourself for the holidays, contact our office today to schedule a consultation.