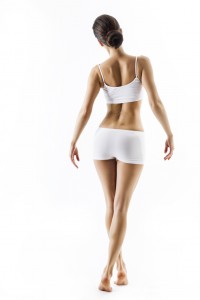 Cellulite. It's completely harmless to your health, but it can bruise your ego—especially if you happen to be spending a day at the beach this summer. Actually, cellulite is nothing more than fat that is below your skin. Because this fat is pressing against connective tissue, it can cause the skin above to pucker. At Natural Beauty Med Spa in Chicago, Lipomassage by Endermologie® can help reduce the appearance of cellulite and make skin appear firmer.
Recontour Your Body with Lipomassage
Lipomassage cellulite treatment is a non-invasive method of recontouring your body, reducing the appearance of cellulite and enhancing overall skin fitness. The treatment is designed to produce faster and more targeted results, so you can quickly see the difference around cellulite's frequent trouble spots on your thighs, buttocks, hips and love handles.
How Does Lipomassage Work?
Lipomassage cellulite treatment by Endermologie® gently massages and manipulates the skin. The treatment combines suction and two rollers to rhythmically fold and unfold the skin. In this way, the deepest layer of fat adheres less to connective tissue and blood flow increases. In addition, the fibers that connect muscle to skin are stretched. After several treatments, fat cells begin to shrink and reshape.
How Often Should Lipomassage be Performed?
For optimal results, we recommend two 35- to 45-minute treatment sessions per week at your massage spa in Chicago, with at least one day in between appointments. Changes in the appearance of your skin are often noticeable after six or seven sessions and the most dramatic results usually occur after 16 to 20 treatments. Once you reach a plateau, you can maintain your skin's smooth appearance with one treatment per month or as necessary.
Is Lipomassage Right for You?
More women than men contend with the appearance of cellulite and flabby skin, but Lipomassage can be the ideal solution for anyone wanting firmer and more youthful skin. For people who have lost weight but simply cannot get rid of those fat deposits that cause cellulite, Lipomassage can be the needed supplement to your diet and exercise routine. Lippomassage can also be used on aging skin that has loosened or on skin that is altered due to hormonal changes after pregnancy and menopause.
For Lipomassage in Chicago, Contact Natural Beauty Med Spa
If you'd like to eliminate the cellulite that detracts from the smooth and youthful appearance of skin anywhere on your body, then call Natural Beauty Med Spa and ask about Lipomassage.