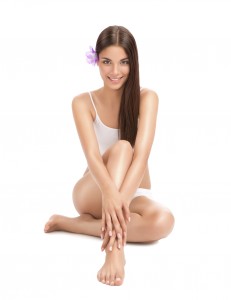 Do you have unwanted body fat? Have you tried eating right and exercising, but it still is not enough? If so, CoolSculpting in Chicago may be just the thing for you. Often referred to as "Hollywood's Best Kept Secret," CoolSculpting is a non-surgical fat reduction procedure to help you achieve a naturally trim appearance. As the only FDA-approved non-surgical fat reduction procedure, you will see stubborn fat disappear using a safe and effective procedure. With more than 3,500,000 CoolSculpting procedures already performed around the world, you will experience the best option to remove body fat.

What are the Benefits of CoolSculpting?
CoolSculpting is the only FDA-approved fat reduction procedure that does not require surgery. You will enjoy a more sculpted appearance for up to 6 months without having to undergo a surgery. There is no recovery time, so you can resume normal activities the same day.
CoolSculpting is effective for use just about anywhere. No matter if you have unwanted love handles, a muffin top, or a double chin, the procedure will remove your unwanted fat. You will have a more sculpted appearance that lasts for months. After the procedure, your fat cells are reduced in the treated areas of your body. The fat cells will not enlarge like that of fat cells from natural weight loss so the results of the procedure will be long-lasting.
How is CoolSculpting Performed?
CoolSculpting is a fairly quick procedure. Often, it only takes one hour to treat each area. There is minimal discomfort during the procedure. In fact, there is no need for anesthesia or needles. Simply lay back and relax as you will only feel some slight pressure and coldness during the treatment; however, both will dissipate quickly once the procedure is complete.
Controlled cooling is used to eliminate unwanted and stubborn body fat. The cold will specifically target the fat cells, causing them to die without causing any damage to the skin or surrounding tissue. After the procedure, your body will naturally eliminate the dead fat cells. As these cells dissipate, you will have a more sculpted appearance.
You will start to see results in as little as three weeks with the most noticeable results appearing about two months after the treatment. Over time, your body will continue to eliminate the fat cells for up to six months after the procedure. You will enjoy proven, noticeable, and long-lasting results. You may require multiple treatments to achieve your desired results.
How Can I Get CoolSculpting?
CoolSculpting is a holistic approach to transform the appearance of your body. This method to eliminate body fat is safe, precise, controlled, and effective for results you will love. If you are ready for fat removal in Chicago using a noninvasive procedure, you will need a consultation.
Dr. Wiesman will perform the consultation and discuss your desired results to create a customized treatment plan. As a board-certified plastic surgeon, Dr. Wiesman will safely and effectively perform the procedure to transform your body.
Contact the Natural Beauty Med Spa today to schedule your consultation for a body transformation.