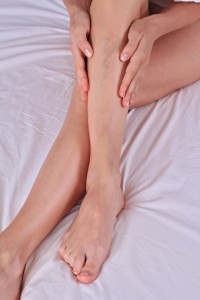 Are you tired of shaving or waxing unwanted body hair? Now, you can remove bothersome hair with laser hair removal in Chicago, IL. The Soprano ICE laser hair removal system is the first treatment of its kind that is truly painless while effective. We know that many are hesitant to try new procedures, which is why we have the facts you need about the revolutionary new procedure.

What is the Soprano ICE Laser Treatment?
The Soprano ICE treatment is far different than any other form of laser hair removal available. The system uses a multi wavelength platform. With Alexandrite Wavelength, the laser is combined with contact cooling to make the treatment painless. In addition, it offers a wide range of treatment coverage and added comfort. In fact, it is the only laser of its kind that can be used on the widest range of skin types, tones, and hair types.
The compact applicator makes it very versatile as it gradually heats the skin with a pulse of light to target the hair follicle. The treatment is quick and offers no recovery time. It is backed by the FDA to be used on skin types I-IV, and also on tanned skin.
Does It Actually Work?
The Soprano ICE system is supported by 7 years of clinical effectiveness. However, it will require more than one treatment. Since hair grows in cycles, you will need about 6 to 8 sessions with occasional top-up sessions.
When compared to other laser systems, the Soprano ICE is far less painful than its competitors. In fact, many fall asleep during their treatments. In addition, other systems cannot be used on tan skin, but this system can. You do not have to have pale skin in order for it to be effective.
Where Can the Treatment Be Used?
The system is safe and effective enough to be used virtually anywhere. No matter if you have unwanted facial hair or want to rid hair from your legs, just about all areas can be treated—even the bikini line.
What Can I Expect During the Procedure?
With Soprano ICE in Chicago, IL, you will first need a consultation with Dr. Wiesman. Dr. Wiesman will evaluate your hair and skin while discussing your desired results to create a treatment plan. Prior to starting the treatment, you will need prepared, which means the area to be treated will be shaved. Then, Dr. Wiesman uses the applicator to target your hair follicles. This takes about 15 minutes. After the treatment, you can resume normal activities.
Dr. Wiesman will discuss your follow-up treatment sessions. On average, you can expect your hair to be completely removed after 6 treatments. However, you will need an annual-top of for minimal hair regrowth.
Where Can I Get Laser Hair Removal?
If you are ready to stop using razors and waxing, it is time to schedule your consultation with Dr. Wiesman. At Natural Beauty Med Spa, Dr. Wiesman offers effective laser hair removal with the most preferred system available with Soprano ICE.