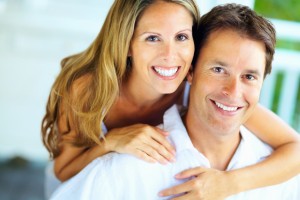 It's been a long summer, and it's been hotter than ever here in Illinois. If these sweltering months have left your facial skin in need of a little boost, this news is for you: Natural Beauty Med Spa is offering a 30 percent discount on skin rejuvenation and pain free hair removal in Chicago! Each procedure is sure to leave you feeling fresher and more confident than ever before. And when you undergo the two treatments together? It's an unbeatable combination.
Pain Free Hair Removal Is Possible
Most people associate hair removal with a whole lot of ouch. Painful waxes, razor burn, tweezing — none of it feels good. And what's even more frustrating, none of these hair removal solutions last. That's why we are pleased to offer patients comfortable, permanent hair removal with the Soprano® ICE laser hair removal system.
How does laser hair removal work? By using the heat and power of concentrated light to eliminate hair and destroy the cells responsible for its regrowth. Lasers are ultra-precise, allowing for a controlled approach that doesn't cause any damage to the surrounding skin.
Laser hair removal can be performed on all types of skin and in every area where unwanted hair appears. You can have even the most stubborn hair removed from the…
Face

Underarms

Forearms

Legs

Chest

Back

Bikini area
Pain free laser hair removal frees you from waxing, shaving, and uncomfortable tweezing. The procedure is completed in a series of appointments to the Natural Beauty Med Spa. Patients who choose laser hair removal agree — it's well worth the investment.
Skin Rejuvenation Reveals A More Confident You
In addition to the 30 percent discount on pain free hair removal, we are thrilled to provide the same savings on skin rejuvenation in Chicago. The Pixel Perfect™ Laser is something like a facial — but with maximum effectiveness. Skin resurfacing (rejuvenation) works by exfoliating several of the old, dead skin cell layers from the surface of your face. After exfoliation, the youthful, beautiful skin underneath is revealed.
There are a number of options available in skin resurfacing. They include micro peels, erbium laser resurfacing, and radiofrequency (RF) laser resurfacing. All methods remove tired skin to reveal the fresher layers beneath. In one to four 30 minute treatments, you are able to enjoy firmer facial skin with a dramatically improved texture and tone.
Follow Through to Maximize Your Results
Hair removal and skin rejuvenation are both completed over the course of two or more visits to Natural Beauty Med Spa. Make sure you attend each of your scheduled appointments to enjoy the maximum results in hair removal and skin rejuvenation.
Get In On These Deals For a More Youthful Look
You deserve to enjoy youthful, hair-free, radiant skin. The experts at Natural Beauty Med Spa can help you achieve it! Don't forget that right now, we are offering our patients 30 percent off pain free hair removal and skin rejuvenation treatments. That's a significant savings, and a big step in the direction of a more confident you. Request your appointment for pain free beauty treatments in Chicago today!