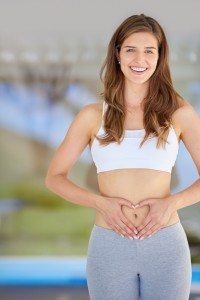 Are dieting and exercise not enough to get rid of unwanted body fat? Are you ready for a trim and contoured appearance? Now, you can benefit from the latest innovation in nonsurgical body sculpting with fat reduction in Chicago. Dr. Gary Wiesman offers the UltraSpeed Applicator, which uses a small hand piece to deliver ultrasound technology to target tissue to rid the stubborn cells. The quick, noninvasive produce will give you the results you have been wanting in as little as 20 minutes.

What is UltraSpeed?
This revolutionary fat reduction procedure uses an extra-large applicator plate and ultrasound technology for high-speed contouring. The sonotrade plate-type emits ultrasonic waves, which are guided through concentric profiles to target and heat tissue. The energy is the distributed throughout the area being treated to disrupt the cells.
This treatment is powerful enough to treat the full abdominal area while remaining gentle for a noninvasive, comfortable procedure. The unique design allows it to be used on large locations while reducing the amount of time the process takes. In fact, the entire stomach area can be treated in as little as 20 minutes. However, it can also be used on the face and neck as well.
How Does UltraSpeed Work?
The applicator can be used at high power levels while using a cooled vacuum to maximize the results. With the vacuum targeting a specific area, the tissue fluids are captured while the skin is cooled to significantly reduce pain. Using RF energy for thermal shock to the tissue, the results are more focused and concentrated. When compared to other treatments, you will require less sessions for more effective results.
What are the Benefits of UltraSpeed?
This next generation technology produces a wide range of benefits when wanting fat loss in Chicago. You will enjoy a more focused treatment that allows better control for more effective results while also leaving the surrounding tissue unharmed.
Overall, the process is comfortable due to the gradual heating and cooling to prevent pain and discomfort. The combined technologies allow you to achieve faster results that will last with minimal treatment sessions required. Best of all, there is no downtime. You can return to your normal activities immediately after the procedure.
Unlike other fat reduction treatments, the UltraSpeed Applicator can be used on an array of skin types, including those who have thin skin. The gentle procedure can be used on even the most delicate of areas, including the face and neck. You will enjoy a more contoured body with tighter skin for a fresh, toned appearance.
Where Can I Get an UltraSpeed Treatment?
If you are ready to say good-bye to love handles and other areas of unwanted fat, it is time to contact Dr. Wiesman at Natural Beauty Med Spa. Dr. Wiesman will create a tailored treatment plan to help you love your body. Contact our office today to schedule a consultation to benefit from the best fat reduction technology available.