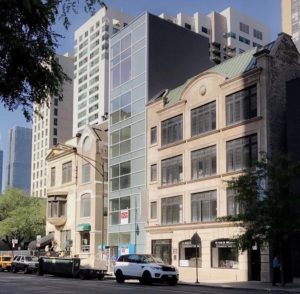 If you have recently been by Natural Beauty Med Spa, you may have noticed that things have changed a bit. We have moved into a new building, which is only about a block away from our previous location to continue to provide convenient care. While our address may now be different, you will still benefit from one amazing plastic surgeon in Chicago. Dr. Irvin M. Wiesman is still providing the exceptional services that you have come to trust.

Choose a Trusted Plastic Surgeon
As a Chicago native, Dr. Irvin M. Wiesman has become a trusted board-certified plastic surgeon in the area to serve his local community with high-quality care. After completing medical school at the University of Illinois in Chicago, he furthered his education to complete 5 years of additional training in General Surgery at St. Joseph's Hospital, which is a Northwestern University Affiliate.
Striving to provide his patients with the most advanced treatments, he continued to further his education. He has completed a Hand and Microvascular Surgery Fellowship at the Washington University in St. Louis, as well as his Plastic Surgery training at SUMMA Health Systems in Akron, Ohio.
As a well-respected and reputable plastic surgeon, he has been published in many peer-review journals and books while also presenting various papers across the country. Currently, he shares his knowledge in diverse skillsets by teaching in local training programs. Due to his exceptional training and qualifications, he remains an active member of the American Society of Plastic Surgeons.
Benefit from Professional Services
After joining his father, Dr. Gary G. Wiesman, in 2003, they have combined their qualifications and experience in private practice. As a private practice, Dr. Wiesman can keep his patients a forefront of his focus while he provides an array of cosmetic medical procedures, including facial surgery, body contouring, and general reconstructive surgery.
In addition to cosmetic procedures, he also provides hand and microvascular surgeries, such as the treatment of carpal tunnel syndrome, rheumatoid arthritis, and tennis elbow. Through his diverse training, he can treat patients with all needs, including those with congenital deformities, hand injuries, acute trauma, and fracture.
However, his services do not end there. He holds a special interest in skin rejuvenation, which led to the opening of Natural Beauty Med Spa of Chicago. As a full-service spa, his patients enjoy a comfortable and relaxing environment while benefiting from professional products and treatments.
With a focus on his patients, he combines a personal approach with his knowledge and training to make visiting your plastic surgeon easy and comfortable.
Enjoy the Services You Deserve
If you are looking for a plastic surgeon, stop by our new location to benefit from the skills and experience of Dr. Wiesman.
About Dr. Irvin M. Wiesman
Dr. Irvin M. Wiesman is a trusted board-certified plastic surgeon serving the Chicago area. Offering an array of services, he will help you look and feel your best using the most advanced and groundbreaking procedures. To benefit from the care you deserve, contact Natural Beauty Med Spa today to schedule a consultation.