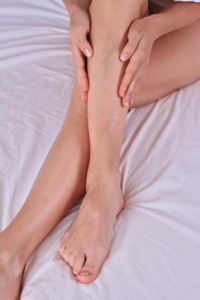 Are you tired of fighting unwanted body hair with razors and expensive waxing kits? If so, you have probably considered laser hair removal in Chicago but have yet to commit to a treatment. Let's face it, the procedure has a bad reputation for being painful, which would make anyone hesitant to undergo the process. What if you could get a pain-free treatment? Now you can with Soprano ICE. This revolutionary new treatment allows you to say good-bye to unwanted hair without the pain of traditional laser treatments.

Enjoy a Pain-Free Solution
The Soprano ICE treatment uses a state-of-the-art technology that can be used on the widest range of hair and skin types with a quick and comfortable procedure. The laser targets the hair follicles without causing damage to surrounding tissues to inhibit new hair growth.
Light will pass through the skin and is then absorbed by the melanin in the hair shaft. This causes the temperature of the hair follicle to raise, destroying the cells that are responsible for its growth. Using a special wavelength, pulse duration, and power, it only targets the hair, leaving you with smoother, younger-looking skin.
Using award-winning technology, you will experience no pain or discomfort with the treatment as the laser cools the area while it targets the hair. The cooling pumps in the applicator resolve the common discomfort that is associated with traditional laser procedures. It is a fast and effective platform that caters to your skin and hair type.
There are few side effects associated with the treatment, which can sometimes include mild irritation, itching, and redness of the skin. If they do occur, they will usually dissipate within 48 hours. In rare cases, blistering can occur, but this is not common.
The safe and effective treatment is supported by the FDA to be used on all skin types, including those that are tanned. It is proven successful with 7 years of clinical excellence. It is powerful, yet gentle enough to be used on the most delicate of areas on the body, such as the face and bikini area. It can even be used on the legs, forearms, underarms, and back.
Say Good-Bye to Unwanted Body Hair
When choosing Soprano ICE for laser hair removal in Chicago, you will benefit from long-term results after completing your initial treatment series. In fact, you may not need a top up session for one to two years after your regime is complete.
With Soprano ICE, you have the pain-free solution you have been searching for to say good-bye to razors and waxing kits.
About Dr. Irvin M. Wiesman
Dr. Irvin M. Wiesman is a board-certified plastic surgeon who specializes in an array of aesthetic procedures, including laser hair removal. By embracing the latest technologies, he provides effective and comfortable solutions to help you look and feel your very best. If you have any questions about Soprano ICE and how it can help you, please contact Natural Beauty Med Spa today to schedule a consultation.