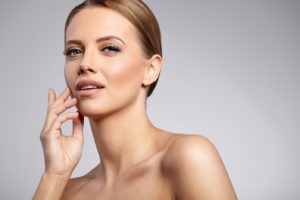 When you look in the mirror, do you see the passing of time starting to appear on your skin? As you age, wrinkles and fine lines will develop while your skin tone and color will change. Although it is a natural part of the aging process, it can cause you to feel self-conscious. In some cases, you may even begin to appear older than your true age. Now, you can turn back the hands of time and restore a youthful glow with MicroNeedling in Chicago. The Eclipse MicroPen is an effective aesthetics treatment to improve your skin.

Restore a Youthful Appearance
Now, you can reduce wrinkles in Chicago using one of Hollywood's hottest secrets with the Eclipse MicroPen. The innovative treatment uses automated micro-needling to reduce the visibility of fine lines, stretchmarks, and acne scars. Overall, you will improve the skin's color, tone, and texture for a refreshed and younger-looking appearance.
Benefit from a Minimally Approach
This revolutionary treatment is safe, gentle, and effective for treating many areas of the body. In addition to the face, it can also be used to treat the neck, hands, legs, arms, back, and abdomen.
A sterile strip is used, which contains 12 tiny micro-tips. A sterile saline is applied and the pen will be set and adjusted to cater to your individual needs. Using a single motion, it is glided in one direction over the skin to treat a specific area.
It is not uncomfortable. In fact, many people report that it feels like sandpaper being run over the skin. In as little as 15 minutes, your procedure will be complete. You will then notice that uneven skin tone improves while also minimizing the appearance of wrinkles and scars.
When compared to other treatments, you will enjoy minimal recovery time. It is normal for the skin to appear bright red after the procedure; however, this will dissipate in about 2 to 4 days. In most cases, you will be fully recovered within 24 hours, but this can vary depending on the treatment location and the size of the area.
Although you may notice slight improvement in the appearance of the skin immediately, the best results will appear over the course of the next few weeks. You will enjoy lasting improvement for as long as six months with a single appointment. However, most patients will need a series of treatments about every 6 to 8 weeks to maximize the results.
Turn Back the Hands of Time Today
If you are ready to improve the appearance of your skin, it is time to see if MicroNeedling is right for you.
About Irvin M. Wiesman
Dr. Irvin M. Wiesman is a board-certified facial plastic surgeon who offers an array of elective procedures to enhance your natural beauty. Using the latest innovations, like MicroNeedling, you will enjoy a youthful appearance to restore your confidence. If you have questions about the Eclipse MicroPen, please contact our office for a consultation.