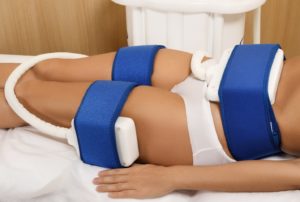 Social media is full of beauty gurus who are eager to share so-called "hacks" that they claim can make their followers look their best. You might even have come across some information about DIY CoolSculpting. CoolSculpting is a popular brand name in the cryolipolysis industry. Cryolipolysis is a cosmetic process that involves freezing stubborn pockets of fat, leading to a leaner and more shapely body. It should only be performed by a qualified professional! Let's talk about why DIY CoolSculpting is so dangerous and what you can expect when you visit a med spa for this transformative service.
Why You Should Never Attempt DIY CoolSculpting
DIY CoolSculpting may be carried out with special devices bought online. More often, though, it simply involves placing ice packs on the skin for extended periods of time. This is dangerous because you might end up accidentally harming yourself. Frostbite is a very real possibility. Professional CoolSculpting equipment, on the other hand, maintains precise temperature control that freezes fat but leaves the skin unharmed, making it a very low-risk procedure.
Additionally, DIY CoolSculpting simply does not work. It cannot keep the fat cold enough for long enough to achieve results. Professional equipment uses a patented thermoelectric system that maintains a temperature that can kill fat cells for good.
It's also important to keep in mind that CoolSculpting is not a weight loss technique. Rather, it is a treatment that aims to produce a shapelier figure in people who are already close to their ideal weight. Misguided individuals who try DIY CoolSculpting to lose weight will inevitably be disappointed.
What to Expect with Professional CoolSculpting
Safety is just one benefit that you can expect with professional CoolSculpting. Other advantages include:
Reliable results. In addition to maintaining a precise temperature, professional CoolSculpting equipment uses suction to keep the fat cells close enough to the skin for them to freeze. Without the suction, the fat would move away from the skin's surface, and results from the treatment would be minimal.
Expert guidance. Your CoolSculpting provider knows exactly where to place the CoolSculpting equipment on your body to achieve the best results. They can also suggest other non-invasive treatments that can be part of your treatment plan for attaining your ideal shape.
An honest evaluation. A cosmetic specialist won't urge you to try a treatment that is unlikely to work for you. If CoolSculpting might not be a good choice for you due to your current body composition or other factors, they will tell you so.
Would you like to try CoolSculpting? Resist the temptation to attempt a DIY treatment. Partnering with a professional can ensure that you choose the right cosmetic procedure and achieve noticeable results — without compromising your safety.
Meet the Practice
Dr. Irvin Wiesman is a board-certified plastic surgeon who is proud to help residents of Chicago and the surrounding communities to look and feel their best. He offers a range of noninvasive cosmetic treatments that provide remarkable results, including CoolSculpting. If you would like to talk to him about how you can achieve your ideal look, contact our office at 312-981-1291.