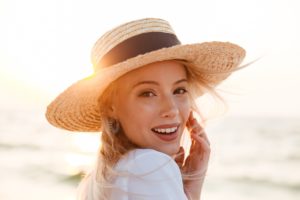 As temperatures rise and the sun shines, now is the perfect time to freshen up for summer with your favorite spa treatments.  You can reveal a youthful glow with a skin rejuvenation treatment or turn back the hands of time with Botox in Chicago. There is a treatment that is right for you to refresh your appearance just in time for summer.
Skin Rejuvenation Treatments
Your skin is often the first place to show the passing of time. Wrinkles, fine line, sun damage, or age spots can make you appear years older than your true age. You do not need to hide behind aged skin. There are a variety of treatments that can revamp your skin's appearance to look younger this summer.
Skin Resurfacing
Advanced resurfacing methods remove the outer layers of your skin using unique exfoliation techniques. This allows healthier skin cells to be revealed to lessen the noticeability of aged or damaged skin. You can even see noticeable results with firm, smooth skin after just one session.
Micro-Needling
Micro-needling is an elective treatment that improves your skin's tone, color, and texture. The comfortable treatment can help you look years younger by correcting several issues at once. You will reduce the appearance of large pores, uneven skin tone, and sun damage using one simple and effective solution.
PhotoFacial
Say good-bye to blemishes with IPL PhotoFacial. Intense pulse lights penetrate your skin to regenerate cells to even your skin tone. It can even reduce the appearance of wrinkles and fine lines. Although the light pulses deeply penetrate your skin, it leaves the surface undamaged to reveal your natural beauty.
HydraFacial
HydraFacial is a noninvasive procedure that cleanses and hydrates your skin. It can improve its elasticity and firmness while also evening your skin tone. You can even see an improvement in oily, congested skin to reveal a beautiful glow.
Chemical Peel
A chemical peel exfoliates your skin and encourages the growth of collagen to reduce the appearance of fine lines. The growth of new tissue also improves blemishes and uneven pigmentation. You will see significant improvement after just one week.
Microdermabrasion
Removing the outer layer of your skin with tiny crystals lessens the appearance of dark spots and sun damage. You will have softer, smoother skin that looks years younger.
Botox
Reduce the visibility of wrinkles and fine lines with Botox. The simple injections provide significant improvement with results that can last several months.
Reveal Your Inner Beauty
This summer do not let wrinkles, age spots, or other skin imperfections dull your confidence. You can restore a youthful glow using the latest skin rejuvenation treatments to look and feel your best.
About Natural Beauty Med Spa
Our medical spa in Chicago has a great team of highly trained technicians who provide the latest skin rejuvenation procedures. You can look years younger using a customized treatment plan from Natural Beauty Med Spa. You will enjoy high-quality solutions and the latest medical technology to help you attain your outer glow. Contact our office today to schedule your consultation for a skin rejuvenation treatment for summer.